your one-stop certification solution!
What is CCC
CCC stands for "China Compulsory Certificate". Certain product groups must have a CCC certificate before they can be exported to China. It is a mandatory certification in China. The CCC certification is comparable to other certifications for the standardization of product quality and safety, such as the European CE system.

The CCC certificate was introduced in 2002. The authorities responsible for CCC certification (China Compulsory Certification) in China include the State Administration for Market Regulation (SAMR), Certification and Accreditation Administration of the People's Republic of China (CNCA), China Quality Certification Centre (CQC), China Certification Centre for Automotive Products (CCAP).
CCC (also often called 3C certificate) applies to both imported and Chinese made products. Products requiring CCC certification must obtain CCC approval prior to being to being imported, bought, sold, and used or traded in in China. Improper use of CCC licenses or printing a CCC-mark on products without certification will also result in fines and penalties.
CCC Certification
There are several different types of CCC certification:
CCC Certification (China Compulsory Certification)
The China Compulsory Certification is a mandatory certification including product testing in China, an initial factory audit and subsequent annual follow-up inspections for products that are listed in the CCC catalogue.
This is a certification that applies to specific types of products. The manufacturer is required to obtain the self-declaration certificate. Certain requirements must be met and corresponding information must be uploaded into a regulatory online system. In addition, product tests in China are usually required.
Many products that do not fall under the CCC obligation according to the CCC regulations or require a CCC Self-Declaration can obtain a voluntary certification. Voluntary certifications provide an indication to the end user that a certified product meets certain specified quality standards. The criteria checked are very similar to those for standard CCC certification. Often the requirement for voluntary certification comes from the end customer or OEM, which is why many manufacturers requested or required to have products certified.
Products Subject to CCC Certification
Automotive components, electronic products and consumer products in typically require CCC certification.
Here you can find more information on certification-relevant products.
CCC certification process
Issuance of the factory code
Receipt of the CCC certificate
Marking with the CCC logo
The application for CCC certification and relevant supporting documentation must be submitted to the responsible authorities.
The main Chinese authorities accepting CCC applications are:
China Quality Certification Centre (CQC)
China Certification for Automotive Products (CCAP)
The duration of CCC registration depends on the workload of the authority, test laboratory and auditors. With good guidance, the process can be completed within approximately 3-5 months; however, this is highly dependent on the product type and specific requirements. The success of CCC registration is dependent on detail-oriented work according to the Chinese guidelines. The results of the product tests (with some tests being obligatorily carried out in Chinese laboratories) and factory inspection are carefully reviewed by the Chinese authorities and precisely cross-checked against the application forms and supporting documentation submitted in advance. In the event of errors or deficiencies, the certification will be delayed or denied.
To maintain the validity of the CCC certificate, follow-up certifications must be performed annually in accordance with CCC regulations. This includes application, conducting a one-day CCC inspection at the factory and providing evidence of product testing in accordance with the designated Chinese GB standard. The procedure of a CCC Follow-Up Certification is comparable to the initial certification, but it is typically shorter in duration and with lower costs.
CCC Marking
Before CCC-certified products can be shipped to China, they must be marked in accordance with Chinese regulations.
The CNCA authority specifies the exact requirements for marking, which may differ depending on the product type.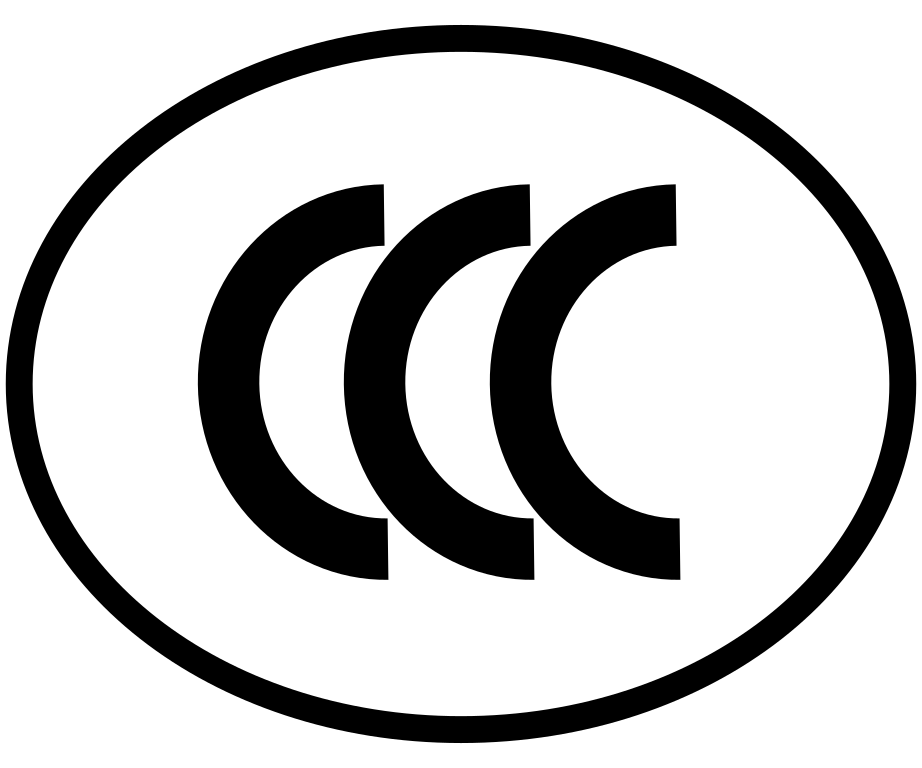 Requirements for CCC Marking of products:
Marking with tools
CCC logo and the Factory Code (factory identification code, letter + six-digit numerical code) must be applied to the component.
Marking with label
Additionally to the CCC logo and Factory Code, the manufacturer's name/trademark and the model designation should also be on the label.
There may be additional marking requirements depending on product type. Please check carefully by specific product!
Changing of existing CCC certificates
Manufacturing facilities that have a CCC certificate for at least one of their products must comply with the applicable Chinese regulations. The regulations consist of the Implementation Rules and the GB Standards.
One of the most common requirements involves change management. The certified manufacturer will need to assure the Chinese authorities that relevant changes to a part will be made before implementation of the change. The process usually requires submitting a change applications and testing in China. The changes cannot be made until the certification authority grants approval with a change notice.
For more information on regulations, see our list of Chinese GB standards and norms.
Change to the product design
Change to the structure of the product (e.g., adding another layer of material to an interior component)
Changes to a core component "Key Component"
Change of material suppliers
Change in the organizational structure of the plant (for example if responsibility for CCC is transferred to another employee)
Changes to the part name or part number
Some changes require product retesting to be performed in China. If the production line or even the entire plant is to be relocated, a new initial certification or at least an additional plant inspection is usually required.
Certificate holders must submit a request to change the GB Standard or Implementation Rules before the deadline.
In case of GB Standard updates, product tests must be performed according to the new GB Standards.
Your One-Stop Certification Solution.
Our complete package for product certifications for China.
Personal support by one of our experienced consultants
Clarification of the certification obligation of your products
Application preparation and communication with the Chinese authorities and test labs
Preparing and conducting pre-audits
Preparation and support of the factory audit
Organizing the required product tests
Advice on the marking of your products
Organization of the follow-up certification
Updates on product-specific regulatory changes
CCC Certification Overview
Validity of the certificate
5 years

(annual follow-up audit must be passed to maintain validity)
Certification period
For initial certification: approximately 4-5 months

For extension certifications: approximately 8-12 weeks
Marking
CCC Certified products must be marked with the CCC logo
Tests required?
Yes
Factory audit required?
Yes
Follow-up process
Annual audits at the plant and CoP testing are required
CCC Certification FAQ
Does my product need CCC certification?
Many end customers ask their suppliers for CCC certification. Since many products are subject to China Compulsory Certification, it is difficult to make a blanket statement about this before the product has been checked in detail.
It is advisable to first carry out a general CCC check and then discuss whether CCC certification is possible. We will be happy to assist you in checking your products.
Can I apply for a CCC Investigation Letter (CCC Exemption) if my product does not need CCC certification?
In our free CCC check (for up to 3 products), we discuss with you whether your product need CCC certification. If your product does not need CCC certification in China, there are alternatives that we can discuss with you. One option is a CCC Investigation Letter. The CCC Investigation Letter confirms that your product has been checked and is not required to have China CCC certification. The CCC Investigation Letter can be useful in dealing with your customer and/or with Chinese customs. For some areas, such as automotive, there is also a negative certificate that you can apply to the authority.
What is the best way for CCC applicants to prepare for certification?
Product testing for CCC certification is done according to product-related GB standards. Many GB standards are similar to the international requirements such as ECE/IEC standards. However, it is recommended to review the Chinese product standards and the related Implementation Rules of the certification before starting the process.
Which plants need to be audited during the CCC factory inspection?
Basically, the plant must be audited in which the last quality assurance step is performed on the product. There must be a value add at the same location prior to the final quality check. If a product goes through different production steps at several locations, it is not always clear which plant is responsible for CCC registration. Determining the location that needs to be certified is essential for a successful certification. This should be clarified with the greatest possible care at the beginning of the inquiry.
How long does the CCC certification process take?
The certification duration can vary depending on the product. At the start of the certification process it is important to know when the products will start can be produced at the site to be certified and when test samples can be supplied. During the factory audit production will need to be demonstrated for at least a few parts.
In the automotive sector, an initial certification usually takes approximately 4-5 months.
How do I have to label my products after CCC certification?
With CCC certification there is an obligation to mark the parts with the CCC logo. There is no longer a separate marking permission, so marking may be done directly after receiving the CCC certificate.
Marking requirements must be followed and may vary depending on the product. Certain requirements apply regarding the diameter, size and color of the logo. Incorrectly marked products may lead to customs problems and/or non-conformities.
Early coordination with the customer or OEM is recommended.
How long is the CCC certificate valid?
There is an expiration period for all certificates, which is usually 5 years. Certificate renewal should be applied for in good time, prior to expiration (3 months before expiry).
The certificate remains valid as long as the annual follow-up certification (including audits and COP tests) are performed and certificate changes are properly reported to the Chinese certification authority. Since Follow-Up Certification includes a factory audit, it is advisable to plan well in advance.
Does the Quality Manager or any other person in the company need a special qualification to perform the CCC certification?
Typically, no additional training or qualification is required for CCC certification. CCC China follows best quality practices similar to ISO, IATF or other international quality standards. The requirements according to the Chinese GB standards and implementation regulations should be known to the QM prior to the audit. If there is any uncertainty about this, training (individually or as a team) is recommended.
As a CCC-certified company, will I be informed about changes in the regulations by the Chinese authorities?
No, changes in regulations and requirements are only published in Chinese. Companies must inform themselves and familiarize themselves with the regulations. The Chinese authority does not see itself as a service provider that keeps certificate holders up to date on changes and news. It is the responsibility of each certificate holder to be informed about the current regulations and standards applicable to their product. A lot of information can be found directly after publication by the authorities on our website under the category "News". Of course, within the scope of our CCC consultation we also advise our customers on new regulations on an ongoing basis.
CCC Certification Video
Please enable cookies to enable embedded YouTube videos. For privacy-related details on data exchange through use of the videos as well as changeable cookie settings, please see the privacy policy page.