your one-stop certification solution!
What is NAL Licensing?
Telecommunication products exported to China must have a "Network Access License" (NAL). NAL licensing is a mandatory approval of telecommunications equipment that will be connected to the public telecommunications network. NAL licensing thus builds on the SRRC certificate. No NAL license is issued without an SRRC certificate. The Ministry of Industry and Information Technology (MIIT) in China is responsible for NAL licensing. This Chinese authority is responsible for the management and interconnection of public telecommunications networks in China.

Currently, only 14 test labs in China are authorized to carry out the process of NAL registration. It should be emphasized that each of these laboratories specializes in a particular product group and has been accredited by the Certification and Accreditation Administration (CNCA). Originally introduced in June 2001 NAL accreditation became mandatory for 3 product categories. Currently there are now around 25 relevant product categories, which include approximately 300 different telecommunications products. There is also the additional subdivision into two main groups (normal devices / high-end devices).
Products that use 2G (only in rural areas in China), 3G, 4G or 5G as the mobile communications standard also require an additional NAL license. The NAL license can only be applied for in addition to the SRRC certification.
Which products are relevant for Chinese NAL approval?
NAL depends on whether it is equipped with 3G, 4G, 5G, etc. Network functions. For example, the following products may fall under this category:
Smartphones
Modems
Smart home systems
NAL Registration Procedure
To obtain NAL approval, four major steps must be completed in addition to the SRRC process.
SRRC-Process
Preparation and review of application documents
Submission of application
Issuance of the SRRC certificate
NAL-Process
Preparation and review of application documents
Submission of application (with SRRC certificate)
Details of the NAL process:
Submission of application documents
It should be noted that the applicant must be a legal entity established in China. This is especially important for foreign applicants. The China-based company is responsible for the complete import and export, sales and after-sales service of the product.
It should be noted here that certain telecommunications products may require CCC certification in addition to NAL approval. Applicants are encouraged to first perform testing under NAL approval before beginning the process of CCC certification. A certain portion of the NAL test results are also relevant to CCC certification and duplicate testing can be avoided.
Since the MIIT certification center does not conduct inspections outside of China, this requirement is often waived for foreign companies. However, they must have a valid ISO 9000 certificate when applying for NAL approval.
Issuance of the approval certificate
An application for NAL approval can only be submitted after the test has been passed or the Type Approval Certificate (TAC) has been issued. However, the application documents for NAL can be prepared at an early stage and the tests can be started in parallel. This can mean a significant time reduction in the process.
The tests for NAL can already be started in parallel with the tests for SRRC approval. However, the issuance of the license is only possible once the SRRC certificate is available.
MIIT NAL-Label
The application process of the digital NAL label is as follows:
Upload of application form with designed logo (including size) to MIIT online system
After approval (by MIIT), upload of IMEI numbers
Creation of a 15-digits code
Together with the first 6-digits of the NAL number (which the applicant will receive with the NAL certificate), the applicant has the complete 21-digits of NAL digital encoding, which the manufacturer shall use as part of the NAL label.
Each device will have its own and unique 21-digits of NAL code.
The final NAL label looks like this (with multiple color choices):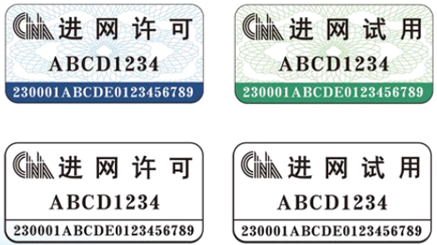 The information given on the NAL license logo is divided into three rows:
The first line stands for "NAL".
The second line is the device model number.
The third line is the above-mentioned 21-digit numeric code.
NAL Labeling methods:
2023 saw the introduction of new regulations for the NAL label, leading to improved management efficiency of the label, saving costs, enabling more convenient querying of label information and better adaptation to market development needs.
These are the available methods to display the NAL license logo:
Electronic display:
For telecommunications equipment with electronic display, the operating system or management software in the telecommunications equipment can be set up, presenting the new NAL authorization logo.


Physical printing:
Direct printing, spray painting, molding, etching and other ways of printing the NAL logo on the outer body of the telecommunications equipment products, nameplates or packaging and other relevant locations.

Adhesion of label:
Attaching the label with appropriate adhesion agent on the outer body of the telecommunications equipment products, nameplates or packaging and other relevant locations.
Your One-Stop Certification Solution.
Our complete package for product certifications for China.
Verification of your product's NAL registration requirements
Non-binding offer for NAL registration, including an estimate of costs
Support through the entire approval process.
Handling of all communication with the Chinese authorities and test labs
Organization of product tests in China
Payments of all application and testing fees to the Chinese authorities.
Contact us!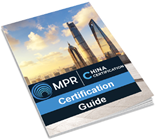 MPR China Certification – Professional consulting and implementation of certification projects world-wide.
NAL-Approval Overview
| | |
| --- | --- |
| Gültigkeit des Zertifikates | 5 Jahre (für 2G Geräte nur 2 Jahre) |
| Zertifizierungsdauer | 3-4 Monate |
| Markierung | Produkte müssen mit einem MIIT NAL Label gekennzeichnet werden |
| Tests erforderlich? | Ja |
| Werksaudit erforderlich? | Nein |
| Vertreter im Land erforderlich? | Ja, z.B. Niederlassung in China |
| Follow-Up Prozess | Nein. |
NAL-Certification FAQ
How do I know if my products require NAL registration?
Products that have features for the following wireless standards fall under NAL: 2G, 3G, 4G, 5G.
After reviewing the exact frequency ranges, the scope of the certification can be determined.
How long does the NAL approval process take?
Product testing in the approval process usually takes 7-8 weeks. Many application and supporting documents are required and these must also all be submitted in Chinese, so a total processing time of at least 12-14 weeks should be expected.
How long is the NAL license valid?
The license is valid for 5 years (2G equipment licenses are only valid for 2 years). After that, a new license must be applied.
What is the best way to prepare for the NAL approval?
We recommend that you review the relevant product standards and Chinese regulations. We will be happy to support you if you have any questions.
Which factories need to be audited?
No factory audit is required for NAL approval.
Do the authorities inform NAL approval holders about changes in the regulations?
No, the Chinese authorities will not contact license holder if any changes in the regulations occur. Changes in the regulations are often only published on the authorities' websites in Chinese. NAL license holders are required to inform themselves regularly about changes. We are happy to assist.
Video related to the nal license for china
Please enable cookies to enable embedded YouTube videos. For privacy-related details on data exchange through use of the videos as well as changeable cookie settings, please see the privacy policy page.