your one-stop certification solution!
SRRC Certification for telecommunication products in China
Devices from the telecommunications sector that use radio technologies (Wi-Fi, WLAN, NFC, Bluetooth, etc.) may require SRRC (State Radio Regulation of China) registration in China. Products that are equipped with radio transmitters and use specific frequency bands require an SRRC certificate. Devices that only have a receiving function do not fall under the SRRC certification requirement. The authority responsible for issuing the SRRC certificate is the State Radio Monitoring and Testing Center (SRTC).

SRRC tests must be conducted at a testing laboratory in China accredited by the Ministry of Industry and Information Technology (MIIT). This authority emerged from the Ministry of Information Industry in 2008 and is responsible for the supervision and development of information technologies.
After completion of the SRRC certification, products can be imported into China. It is mandatory to affix the label with a CMIIT (Chinese Ministry of Industry and Information Technology) ID on it. This is the ID that the manufacturer receives as part of the SRRC certification process so that the products can be imported into China or sold on the Chinese market.
Examples for SRRC-Relevant Products
Whether a product requires SRRC/NAL or not depends on whether it is equipped with Bluetooth and/ or Wi-Fi functions. For example, the following products may fall under this category:
Smartphones
Printers with Wi-Fi function
Bluetooth headphones
Wireless Modems
Measuring devices if they use a wireless function
Smart home systems
SRRC Approval Procedure
Preparation and review of application documents
Submission of the application
Issuance of the SRRC certificate
SRRC testing must be conducted in a Chinese Ministry of Industry and Information Technology (CMIIT) accredited testing laboratory in China. SRRC testing is an important part of SRRC registration. For the test, the devices are connected to a test station.
The objective of the SRRC test is to determine the core parameters of the telecommunication products such as frequency, frequency band, transmission power, frequency tolerance, occupied bandwidth (or spectral characteristic of the signal) and parameters of the frequency spectrum such as out-of-band emissions (OoB) and spurious emissions (SPU). It is important to note that the parameters resulting from the test must match the parameters specified in the application documents. Otherwise, the application may have to be resubmitted.
Market Surveillance in China
After obtaining the SRRC certificate, applicants need to upload sales/purchase contracts within 6 months into the SRRC online system.
MIIT will conduct random checks in China. The manufacturer, which is randomly chosen, will receive an email notification from MIIT. Then the manufacturer needs to send the sample to one of the 7 designated laboratories in China for testing.
SRRC Registration Application Documents at a Glance
Application form
ISO 9001 Certificate
Business License
Material BOM (only a rough overview)
Copy of identification of the managing director
Photos of the product
Cooperation agreement
Company profile
Example of a nameplate
Product manual
Circuit diagram
Information on test methods
All documents must be submitted in Chinese, signed and stamped.
SRRC Marking – The MIIT Label
Products with SRRC certification must be marked with a MIIT label (see example below):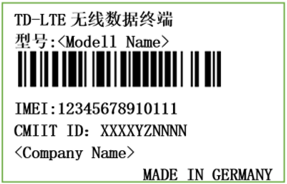 The CMIIT ID is composed as follows:
XXXX/Y/Z/NNNN
Year/Device type/Place of manufacture/Numbering
Challenges during the SRRC Certification Process
The major challenge in SRRC and NAL certification is the preparation of the application documents. All documents must be submitted in the designated form, 100% correct and in Chinese. The Business License must be submitted in Chinese as well.
Our team in Germany and China can fully support you in this process with native Chinese speakers and experts in the field of telecommunication products.
Your One-Stop Certification Solution.
Our complete package for product certifications for China.
Personal consulting and support with the certification process
Checks, examinations and regulations
Execution of the SRRC tests
Handling of all communication with the Chinese authorities and the test laboratory
Payment of the application and test fees in China
Contact us!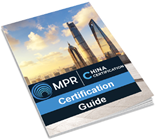 MPR China Certification – Professional consulting and implementation of certification projects world-wide.
SRRC/NAL Certification Overview
Validity of the certificate
5 years
Certification period
3-4 months
Marking
Products must be marked with a MIIT label
Tests required?
Yes
Factory audit required?
No
In-country representative required?
For SRRC: No

For NAL: Yes (for example a subsidiary in China)
Follow-up process
No
SRRC Certification FAQ
How do I know if my products need SRRC registration?
Products that have the following radio standards/mobile standards are most likely to fall under SRRC: Bluetooth, Wifi.
After reviewing the exact frequency ranges, the scope of certification can be determined.
We generally recommend having every product from the telecommunication sector checked for certification requirements. Products from the IoT area may also need additional certifications such as CCC.
How long does the SRRC type approval process take?
Product testing for the SRRC type approval usually takes 6-8 weeks. For more urgent projects, there is an express mode that takes 5-6 weeks. Since many application documents are required and they all need to be submitted in Chinese as well, a total processing time of at least 12-14 weeks, or 10-12 weeks in express mode, should be expected.
How long is the SRRC license valid?
The license is valid for 5 years. After that, a new license must be applied for.
What is the best way to prepare for SRRC certification?
We recommend you check the relevant product standards and Chinese regulations. We will be happy to support you if you have any questions.
Which factories need to be audited?
The SRRC process does not include an audit. Certification simply consists of application and supporting documentation to be submitted and product testing in a Chinese laboratory.
Do the authorities inform SRRC certificate holders about changes in the regulations?
No. The Chinese authorities will not contact you. Changes in the regulations are often only published on the authorities' websites in Chinese. However, SRRC license holders are obliged to inform themselves regularly about changes. We are happy to assist here.
Video about the SRRc type approval for china
Please enable cookies to enable embedded YouTube videos. For privacy-related details on data exchange through use of the videos as well as changeable cookie settings, please see the privacy policy page.