Your One-stop certification solution!
What is the ITRI approval?
Since 2013 certain explosion-proof electrical equipment has been required to apply for ITRI approval before installation and use in Taiwan. The purpose of the approval is to protect consumers safety. The Industrial Technology Research Institute (ITRI) was appointed in 2012 by the Taiwan Occupational Safety and Health Administration as the official body for type testing explosion-proof electrical equipment. ITRI certification is not mandatory for certain products if an IECEx or ATEX certification is available. However, since 2016 all explosion-proof products must be registered with the Occupational safety and Health Administration (OSHA) in order to be imported into Taiwan.
The Ministry of Labor's Occupational Safety and Health Act in Taiwan requires that explosion protection products for any area comply with applicable safety standards. For this reason, ITRI registration is required for all explosion-protected products, in which safety information and other technical data are requested. The product is checked to ensure compliance with the applicable regulations and standards of Taiwan.
The ITRI Type Verification Approval (also known as TS Mark certification for Taiwan) must always be applied for by the manufacturer, who is also responsible for affixing the TS Mark to the approved product.
Foreign companies can apply for the ITRI and TS marking without appointing a domestic agent.
Which products require ITRI approval?
The ITRI certification requirement primarily affects explosion-proof (Ex) electrical equipment in all hazardous areas (Ex zones). Some products include explosion-proof lighting, electrical rotating machinery, switchgear, and control elements to name a few.
The electrical products must be approved according to your Ex-type and the corresponding standard:
| | | |
| --- | --- | --- |
| Ex-Type | CNS Standard | Corresponding IEC standard |
| | CNS 3376-0/C 1038-0 | - |
| Flame proof enclosure "d" | CNS 3376-1/C 1038-1 | IEC 60079-1:2014 Ed. 7.0 |
| Positive pressure housing type "p" | CNS 3376-2/C 1038-2 | IEC 60079-2:2014 Ed. 7.0 |
| Sand filling "q" | CNS 3376-5/C 1038-5 | IEC 60079-5:2015 Ed. 4.0 |
| Liquid immersion "o" | CNS 3376-6/C 1038-6 | IEC 60079-6:2015 Ed. 4.0 |
| Increased safety "e" | CNS 3376-7/C 1038-7 | IEC 60079-7:2015 Ed. 5.0 |
| Intrinsic safety "i" | CNS 3376-11/C 1038-11 | IEC 60079-11:2011 Ed. 6.0 |
| Type of protection "n" | CNS 3376-15/C 1038-15 | IEC 60079-15:2010 Ed. 4.0 |
| Encapsulation "m" | CNS 3376-18/C 1038-18 | - |
| Dust ignition protection by enclosure "t" | - | IEC 60079-31:2013 Ed. 2.0 |
| Enclosure type "tD" | CNS 15591-0/C 4528-0 | IEC 60079-31 |
| General regulation (for explosive dust atmospheres) | CNS 15591-1/C 4528-1 | IEC 60079-0 |
| Pressurized enclosure "pD" | CNS 15591-4/C 4528-4 | IEC 60079-2 |
ITRI Approval process:
Application: Basic Documents
Sample request and dispatch of the original documents
Product testing in Taiwan and issuance of test report
Organization of the quality inspection/ factory inspection
The ITRI certification process requires testing and, if necessary, factory inspections in Taiwan. The regulatory process of ITRI approval consists of an application, testing in an accredited test laboratory in Taiwan and a factory inspection. For the different Ex types, the above-mentioned standards apply, according to which the products must be certified.
If products already have a corresponding IECEx or ATEX certificate, additional tests may be avoided. In some cases, IECEx QAR (Quality Assessment Report) or ATEX QAN (Quality Assurance Notification) or other relevant documents that indicate conformity of manufacturing and process quality may also be recognized. This can facilitate the process to an ITRI Type Verification Certificate (TS Certificates). For example, for certain products, it is possible to obtain ITRI certification without inspection or product testing.
The important prerequisite remains that appropriate certificates and test reports (IECEx, ATEX, etc.) can be presented as the basis for ITRI certification.
How long is the ITRI approval valid?
Depending on the certification procedure, the ITRI certificate may have different validity periods. The longest validity period is 3 years. This is given to manufacturers who already have an IECEx certificate and can provide test reports. If an ATEX certificate is presented, the ITRI certificate is issued with a validity of one year.
There are also products for which no Chinese National Standard (CNS) has yet been defined in Taiwan, in such cases, it is not mandatory to apply for TS certification. In some cases, certification can also be applied for on a voluntary basis. This voluntary application would be for products that are not yet subject to mandatory certification. The voluntary certificate can strengthen your customers' confidence in product safety through a voluntary approval. All Ex-products must be registered on the OSHA platform before importation into Taiwan. This also applies to those products for which there is no certification requirement.
We will be happy to assist you in clarifying whether a product requires ITRI approval.
TS LABEL Marking of the ITRI Approval
Marking is mandatory for ITRI approval or after registration on the OSHA platform. The TS markings Taiwan look as follows: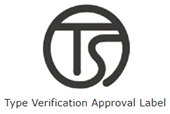 Manufacturers who have successfully obtained a Type Verification Certificate (ITRI) are required to affix the Type Verification Approval Label (shown above on the left) to their product. The Type Verification Approval Label is also known as a TS mark. This marking indicates the conformity of the product with the corresponding standards (CNS/IEC). After registration of the product, the Safety Label (shown above on the right) must also be marked, as well as the approved registration number. Manufacturers who are not required to apply for ITRI approval, or TS Mark product certification, and only register the product through the OSHA platform, use only the Safety Label (shown above on the right).
Your One-Stop Certification Solution.
Our complete package for product certifications for Taiwan.
Personal contact for all questions about ITRI
Clarification of the certification possibilities for your products
Handling of the product tests
Preparation and monitoring of factory inspection/audit
Information about product-specific regulation changes
Contact us!
MPR China Certification – expert consulting and implementation of certification projects worldwide.
ITRI APPROVAL OVERVIEW
| | |
| --- | --- |
| Validity of the Certificate | Up to 3 years |
| Certification Estimated Timing | Depending on admission procedure 2-6 months |
| Marking | All registered products must be marked with the "Safety Label". All ITRI approved products must also display the "Type Verification Approval Label". |
| Testing Required? | Yes, if no IECEx or ATEX available |
| Factory Audit Required? | Yes, if no QAR or QAN available |
| Representative in the country | Not required |
| Follow-Up Process | No activities are required to maintain the certificates |
ITRI APPROVAL FAQ
How do I know if my products need ITRI approval?
If a CNS standard has been defined for the product, ITRI registration must be applied for. We recommend that you contact ITRI directly for information, as the norms and standards can change. We can assist you in this process.
How long does the ITRI approval process take?
Depending on whether an IECEx or ATEX certificate and corresponding test reports as well as a quality inspection report (QAR or QAN) are already available, the ITRI certification process takes different lengths of time. If IECEx or ATEX certification is available, approval takes approx. 3 months. If tests and inspections are required, the duration depends on the product and the test requirements.
How long is the ITRI Type Approval Certificate valid?
The certificate is valid for a maximum of 3 years. In case of existing ATEX certification, the ITRI certificate has a validity of one year.
What is the best way to prepare for ITRI registration?
Product testing for certification is done according to the CNS standards. We therefore recommend that you check the relevant product standards and regulations. Existing IECEx or ATEX certification can also simplify the process
Which plants need to be audited?
If required by the authority, the audit during TS certifications in Taiwan always takes place at the product's manufacturing site.
How do I have to label my products after ITRI approval?
All products must be registered and marked with the "Safety Label" after acceptance of registration and before importation. Products that have also obtained ITRI approval must also be marked with the "Type Verification Approval Label".
Do authorities inform ITRI Type Approval Certificate holders about changes in the regulations?
No, the information is only provided on the authority's website in Chinese or English. Companies must monitor changes to regulations on their own unless they the work with a competent consulting company who will inform them of changes and necessary actions to maintain compliance.