New Regulation for NAL Labels
17. November 2023
China´s Ministry of Industry and Information Technology (MIIT) has recently published Announcement No. 79, 2023 and announced new regulations for NAL labels.
The goal is to improve the management efficiency regarding NAL labels, helping manufacturers to save costs, allow users to query label information more conveniently and better adapt to market development needs. The new regulation also makes the process more environment friendly. NAL (Network Access License) is mandatory for telecommunications products that are exported to China.
Manufacturers now have various options to create new digital NAL labels themselves if they follow the MIIT guidelines. Digital NAL labels are a new option and can be displayed in different ways, such as on the screen of the device and operating system. In the past, manufacturers could only use NAL labels in paper form.
During the NAL registration process, a 21-digits number will be created, which constitutes the final NAL code for a telecommunications product.
The final NAL labels in their new form will look like this (with multiple color choices):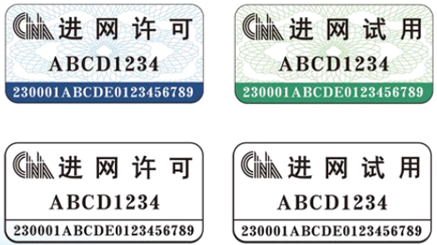 New NAL Labeling methods for China
The applicant can decide to use one of the following methods to display the NAL license logo:
1. Electronic display
2. Physical printing
3. Adhesion of label
Other Approved methods work as well, as long as it meets the requirements of the MIIT.
For more detailed information, please visit our overview of NAL Licensing for China.
For more information on how CCC certification, the CCC Self-Declaration and voluntary CCAP or CQC certification may affect your company, or for more information about CCC certification in general, please visit our News Section where you will find current updates twice a week.
Please do not hesitate to contact us for further details and consultation. You can contact us via email, Chat, or call us (UK: +44 2071931135, Europe: +49 69 2713769150, US: +1 773 654-2673).