your one-stop certification solution!
China Customs clearance – Booklet
Here you can download our brochure "Customs Clearance China – The Booklet" with extensive information on successful import to China.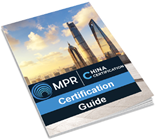 PDF-Document
Content:
General information about customs clearance in China, frequent import problems and exemptions
Get an overview about the single steps of the customs clearance process
Learn about our service package and how we can minimize risks at Chinese customs for you
This content and much more is covered in the guide. All frequently asked questions for each stage of certification are answered.