uw one-stop certificatie oplossing!
Adviesdiensten voor voertuigfabrikanten en industriële ondernemingen
De regelgeving voor complete voertuigfabrikanten en industriële ondernemingen voor de markten in China, Taiwan, India en Korea is aan voortdurende veranderingen onderhevig. Als certificatiedienstverlener voor deze markten bieden wij managementoplossingen op maat op het gebied van:
Legal and regulatory management
Project support for complete vehicle homologation
Database management and maintenance
Change management
Supplier support for component certification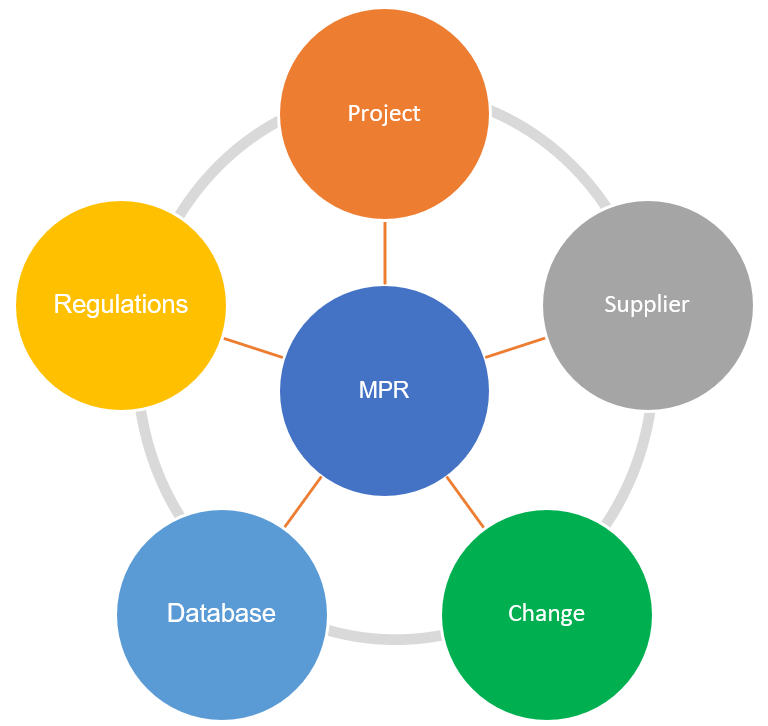 Afhankelijk van het exportland gelden verschillende marktspecifieke eisen voor onderdelen en/of productielocaties, die moeten beschikken over de desbetreffende certificering, testcertificaten of een "eigen verklaring" van de fabrikant.
Beheer van wet- en regelgeving
De identificatie van wettelijke voorschriften en het inzicht in testnormen, uitvoeringsvoorschriften en normen vormen de basis voor de evaluatie en goedkeuring van producten op de afzonderlijke markten.
Wij kunnen de volgende taken voor u uitvoeren:
Review of current legal and regulatory requirements
Classification of regulations in the international context
Evaluation of the test requirements
Assessment of labelling and packaging requirements
Necessity of certification and/or "self-declaration" certification
Budget estimation and controlling
Translation of documents
Projectondersteuning en volledige voertuighomologatie
Om internationale markten te bedienen is een passende planning en kostenbeoordeling nodig, alsmede validering van de voorschriften. MPR China Certification begeleidt uw organisatie in alle projecten en projectfasen van projectplanning, initiatie en uitvoering, SOP, en serieproductie via EOP.
Met onze eigen kantoren en partners op de lokale markten kunnen wij uw goedkeuringsprojecten snel en gericht beoordelen en u een realistisch kostenplaatje, eisen en tijdschema voorleggen.
Aangezien certificeringen en goedkeuringen in veel gevallen tijdgevoelige en permanente vereisten zijn voor de conformiteit van de productie (CoP), is het traceren en bijhouden van certificaten belangrijk. Wij nemen het certificaatbeheer voor u over.
Databasebeheer en -onderhoud
Het beheer van bestaande certificaten, testrapporten en de eigen verklaringen van de fabrikanten vormt de basis voor een productie die aan de eisen voldoet. MPR China Certification ondersteunt uw bedrijf op de volgende gebieden:
Determining the requirements for your database, its initial filling and, if necessary, additional database maintenance
Evaluation of the dependencies between individual certificates and reports
Advice on legal deadlines that must be met
Evaluation and maintenance of master data
Clarification of interfaces to existing internal systems and, if applicable, the systems of your suppliers
Beheer van veranderingen
Wijzigingen in normen en/of testnormen zijn een beslissende factor voor de homologatie en de levering van reserveonderdelen voor fabrikanten. Onze change management service omvat de identificatie van noodzakelijke veranderingen, de analyse van producten, de coördinatie van communicatie en de realisatie van certificeringen.
Veel voorkomende problemen:
Misinterpretation of regulations by suppliers and employees
Lack of coordination between suppliers and OEM
Lengthy coordination of certification processes
Difficulty in determining the site to be certified
Lack of understanding of the certification process
Inadequate and incorrect documentation and storage of certificates in databases
Voordelen van ons adviespakket:
Less of a chance of misinterpretation due to direct contact with local authorities and testing laboratories.
Coordination of different suppliers and different departments of the OEM lead to higher consistency
Reliable provision of regulatory requirements, their interpretation and classification
Product marking advice based on experience
Consistency between application documents
Greater certainty in time management
Better cost transparency
Leveranciersbeheer voor componentencertificering
Voor de algehele homologatie van voertuigen kan de OEM aanzienlijke tijd- en kostenvoordelen behalen door de goedkeuring van onderdelen centraal te beheren. Door een gecoördineerde toepassing en de bundeling van verschillende leveranciers- en productielocaties kunnen redundanties in tests en certificaten vaak worden vermeden.
Dankzij ons uitgebreide netwerk van autofabrikanten, leveranciers en industriële bedrijven hebben wij ruime ervaring met alle soorten verzoeken van fabrikanten op het gebied van goedkeuring voor exportmarkten. Wij ondersteunen u vanaf de identificatie van certificeringsrelevante vereisten van nieuwe componenten, via statuscontroles van bestaande certificeringen, tot de volledige hercertificering van componenten en leveranciers.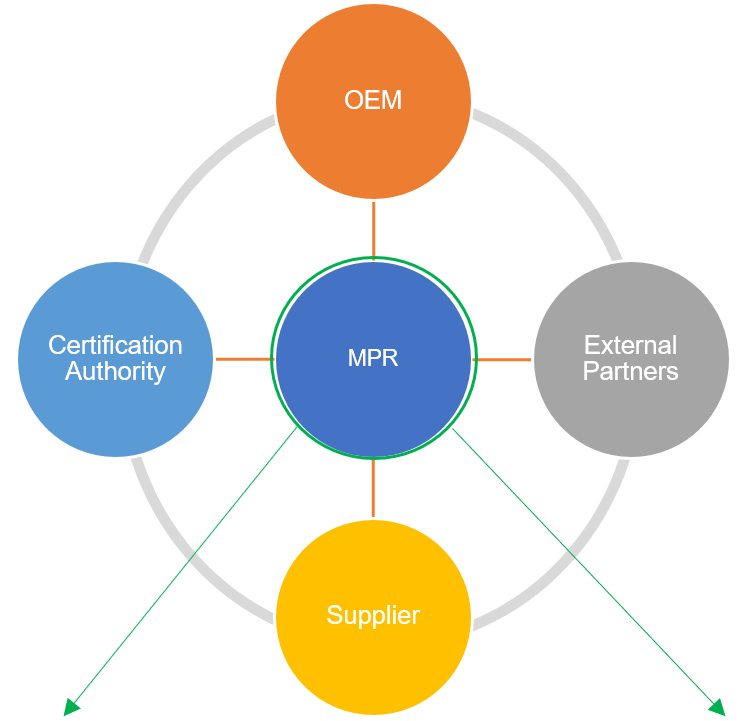 Algemene informatie
Information management (change request sheets, component images,
marking information, DUNS number, etc.)
Clarification of drawing contents
Support with drawing changes
Confirmation of request (after certification)
Verification of documents, for example:

Typing name / nomenclature / model designations
Certificates
Inspection reports
Marking approval
Manufacturer's self-declarations
Test reports
Certificaatondersteuning
Verification of existing certificates
Explanation of which authorities are responsible
Verification of marking according to OEM requirements
Identification of components requiring testing and certification
Preparation of application documents and filing
Organisation of factory inspections
Organisation of product testing
Obtaining manufacturer's self-declarations
Application for marking approval
Organisation of certificate changes
Contact us!
MPR China Certification – Professional consulting and implementation of certification projects world-wide.